So Christian has been to Houston twice in the past 10 days - Tuesday through Saturday last week and then yesterday he and I flew over for a one day trip.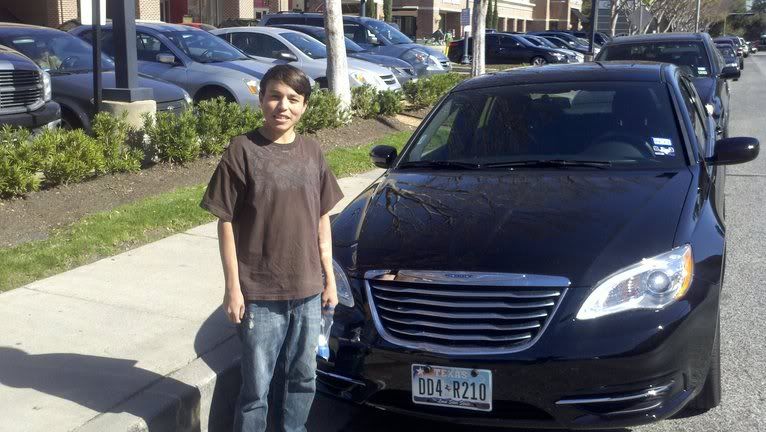 Stylin' with the Chrysler 200 that saved the day!
The news coming out so far has been positive. There was a flurry of tests performed last week and one which was "delayed" until yesterday because we needed some additional time to prepare for it.
One concern going in was that, due to his previous transplant in 1998, Christian's body might have developed scar tissue in the area where a new kidney would be placed. This could have been a minor issue to deal with during surgery or it could have been bad enough to prevent a new transplant. The good news is that he is in good condition internally for a new kidney.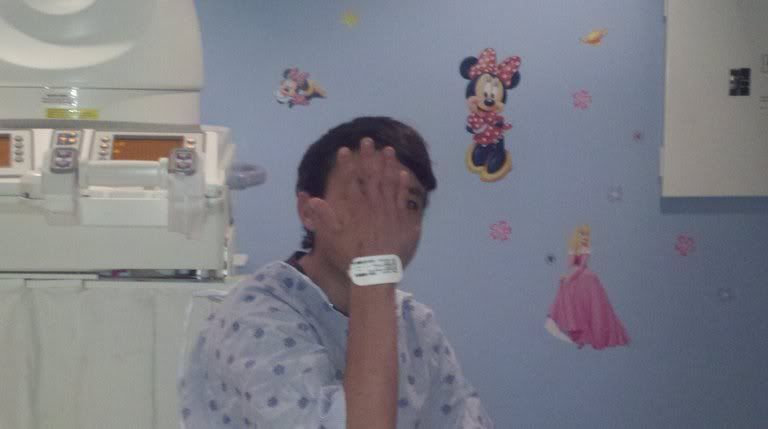 Christian pulls a "you can't see me" move when Dad tries
to frame his pic with Minnie and Cinderella!
The other concern was bladder function, since his has been unused for so many years. That is the test that got delayed and when we completed it yesterday, the news was great - his bladder is small (an expected result), but looks good and functioned well in the test. Post-transplant, it would be expected to grow to normal function once it starts getting used again.
From there we visited with our child life coordinator and discussed all of the things a transplant means; the amount of time in the hospital, the couple months post-transplant stay in Houston (we'll be outpatients 4 days a week as they draw labs, follow up and tweak his daily anti-rejection drug levels), the critical-ness of strong routines on taking daily meds, what happens if that schedule is not followed, etc. It's alot of information for a teenager to take in, but this will be his responsibility as he moves from high school into college and young adulthood.
iPad as a critical medical device
And so normally things move like clockwork at TCH as this is a well-coordinated schedule and their trains pretty much run on time there. Thus we rush through the different clinic visits back and forth between two medical towers.... until the last one of the day. Reviewing the urology results was scheduled to start at 4pm. We had been told it would take 30-45 minutes. Our flight back to New Orleans was at 6:45pm. Everything's cool.
Well we arrived at 3:50, got checked in and then waited. And waited. Now I should make a side note here that, while Dr visits are notorious for the long patient waits, this is NOT the case at Texas Children's with these types of workups for surgeries. Pretty much everyone there is on the money with scheduling because their time is at a premium - and we have come to understand that with a hospital so big, things need to move quickly and on time for it to work. So while I would anticipate a long wait usually, it was not so in this case.
But it wasn't until 5:09 that we saw the first Resident Dr.and then 5:15 for the specialist. It did go quickly and we concluded at 5:22. It was a race to the airport at that point - one in which my old skills of controlled professional driving, cell phone google maps with real-time Traffic updates and our stylin Chrysler 200 were put to the test. We pulled into Enterprise at Hobby airport at 6:05, got dropped off by the shuttle at 6:22, breezed through TSA (seriously!) and lucked into the boarding gate being the first one in the concourse... we walked up a they finished calling all of the pre-boards to get on the plane. Whew!
In the end, everything worked out just fine...
Thanks to all at TCH yesterday - what an incredibly caring and professional group!
Kiki's Dad